Finnair Cabin Crew Recruitment (2019)
Cabin Crew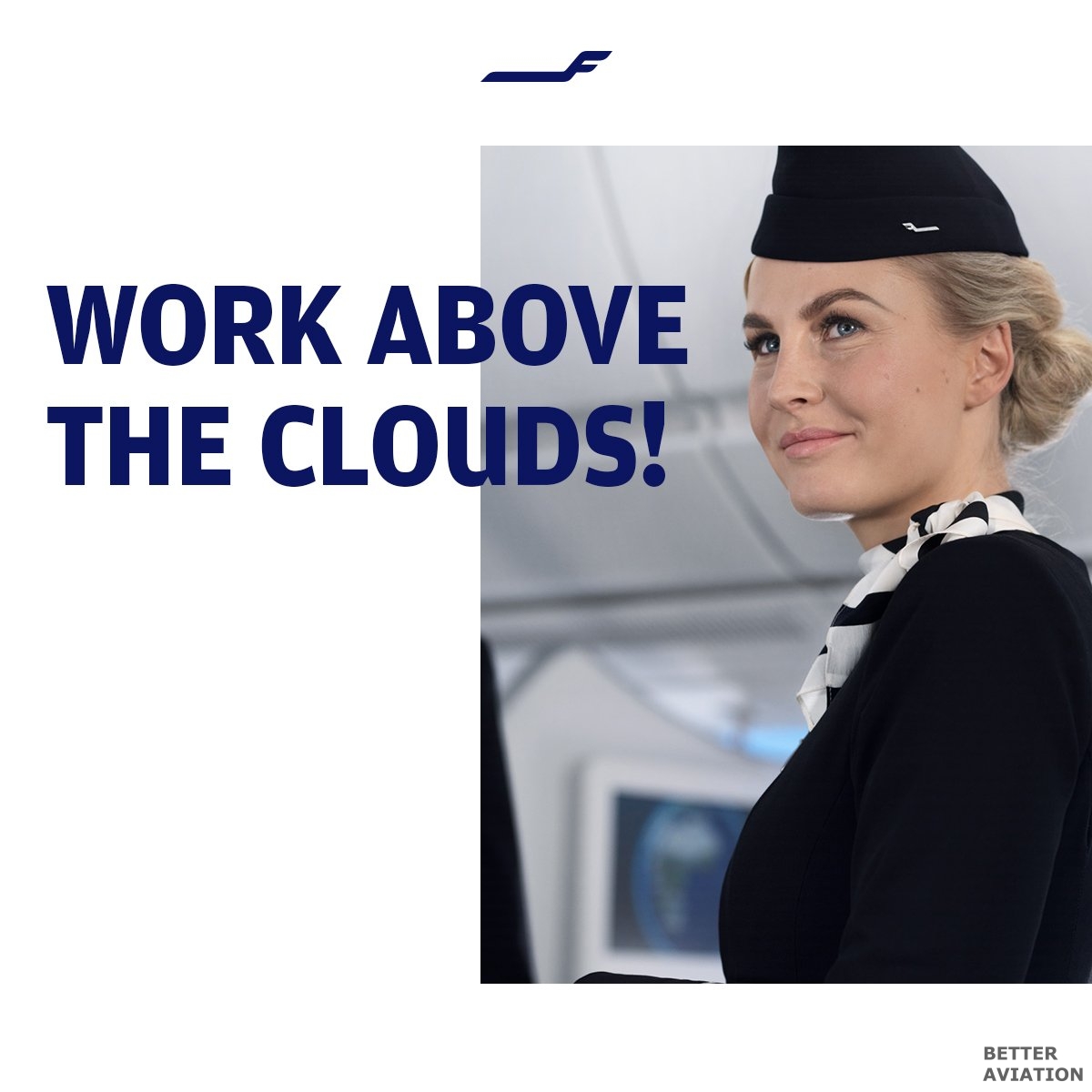 Finnair is a community of top performing reformers who do things with a big heart. We are bridging the world and creating opportunities for meaningful encounters. Every day we challenge ourselves, each other and our know-how so that we can provide the very best experience for our domestic and international customers. Responsibility and our values – Commitment to care, Simplicity and Courage – guide us in everything we do. We are a workplace, a partner, that takes care of its own; because happy employees ensure happy customers. Come join us in creating unique human encounters.
Finnair's strategic objective is to have 20 million passengers by 2030. Customers are at the heart of everything we do, and our vision Unique Nordic Experience comes alive in our everyday encounters with customers. During the past years we have recruited and trained several hundreds of new Cabin Crew members. Due to our growth, we will now continue recruiting new Cabin Crew members based in Helsinki Airport, Finland.
Our team of world-class professionals would like to warmly welcome onboard new
CABIN CREW MEMBERS
Responsible for cabin safety and customer service on Finnair flights.
We are looking for customer-oriented team players who are passionate about providing high-quality customer service. On flights, you will ensure Finnair's customer promise and the vision of Unique Nordic Experience is fulfilled. As a member of Finnair's Cabin Crew, you will also look after the safety on Finnair flights. You will follow our safety guidelines and prepare for each flight by familiarizing yourself with flight information and related working instructions. You will create and maintain a safe working environment, as well as, foster positive and inspiring working atmosphere true to Finnair's values.
You might be the person we are looking for if enjoy serving our customers with a positive, warm and friendly attitude. You are willing to go for an extra mile to ensure our customers arrive happy and relaxed at their destination feeling they want to fly with us again. In addition, you are flexible and adapt easily to changing situations and circumstances, as well as, have desire to learn new things and develop yourself.
What is required to become a Cabin Crew Member at Finnair?
Completed secondary education (upper secondary/vocational school)
Experience in face-to-facecustomer service
Willingness and ability to understand and follow instructions
Positive can-do attitude
Fluency in English is required, fluency in Finnish is highly valued and other language skills are
considered an asset
Height minimum 160 cm
Distant visual acuity using both eyes 0.7 or better (with or without corrective lenses)
Normal colour vision and normal hearing
Ability to swim minimum 50 meters
Good general health (minimum requirement EASA Part Med Cabin Crew and Finnair regulations). In general, this means that you should not have long-term medical conditions, especially conditions requiring continuous or recurrent medication or regular follow-up.
No visible tattoos, piercings or teeth jewellery
How to apply?
Interested in gaining challenging and international customer service and safety experience? Please send your application and CV at www.finnair.com/jobs. We recommend you to check your emails frequently after submitting the application (also spam folders as sometimes emails are filtered there).
What kind of employment contracts do we offer?
We are primarily looking to hire for permanent full-time and part-time employment. Full-time crew members work about 110 hours in a month. Part-time crew members work part-time during autumn, winter and early spring and full-time during summer 2020, and their working hours vary between 45 and 90 in a month. Part-time employment is suitable for e.g. students.
What is the selection process like?
Selection process consists of several steps including online assignments, a medical survey and check, as well as, an assessment day. Before employment, selected candidates will participate in a training course of eight weeks without separate compensation for the training period. Successfully passed cabin crew training is a prerequisite for employment.
Recruitment of our new Cabin Crew members is divided into several selection rounds. The first selection round will take place between March and June 2019, and the rest during summer/autumn/winter 2019.
The first selection round is as follows:
Application period: March-April 2019
Online assignments and a video interview: March-April 2019
Medical survey: April 2019
Assessment days: May-June 2019
Medical check: June 2019
Training: autumn 2019
If you leave your application after 2nd of April, it will be considered in the second selection round from which we select Cabin Crew members for the training starting in late autumn and winter 2020.
Additional information:
We are happy to answer any questions about Finnair Cabin Crew work at ask.fm/finnaircabinjobs. You can also send your questions to cabinjobs@finnair.com. In addition, more information can be found through the links below: