Hong Kong Airlines Flight Attendant Recruitment Day [Hong Kong] (03 June 2023)
Cabin Crew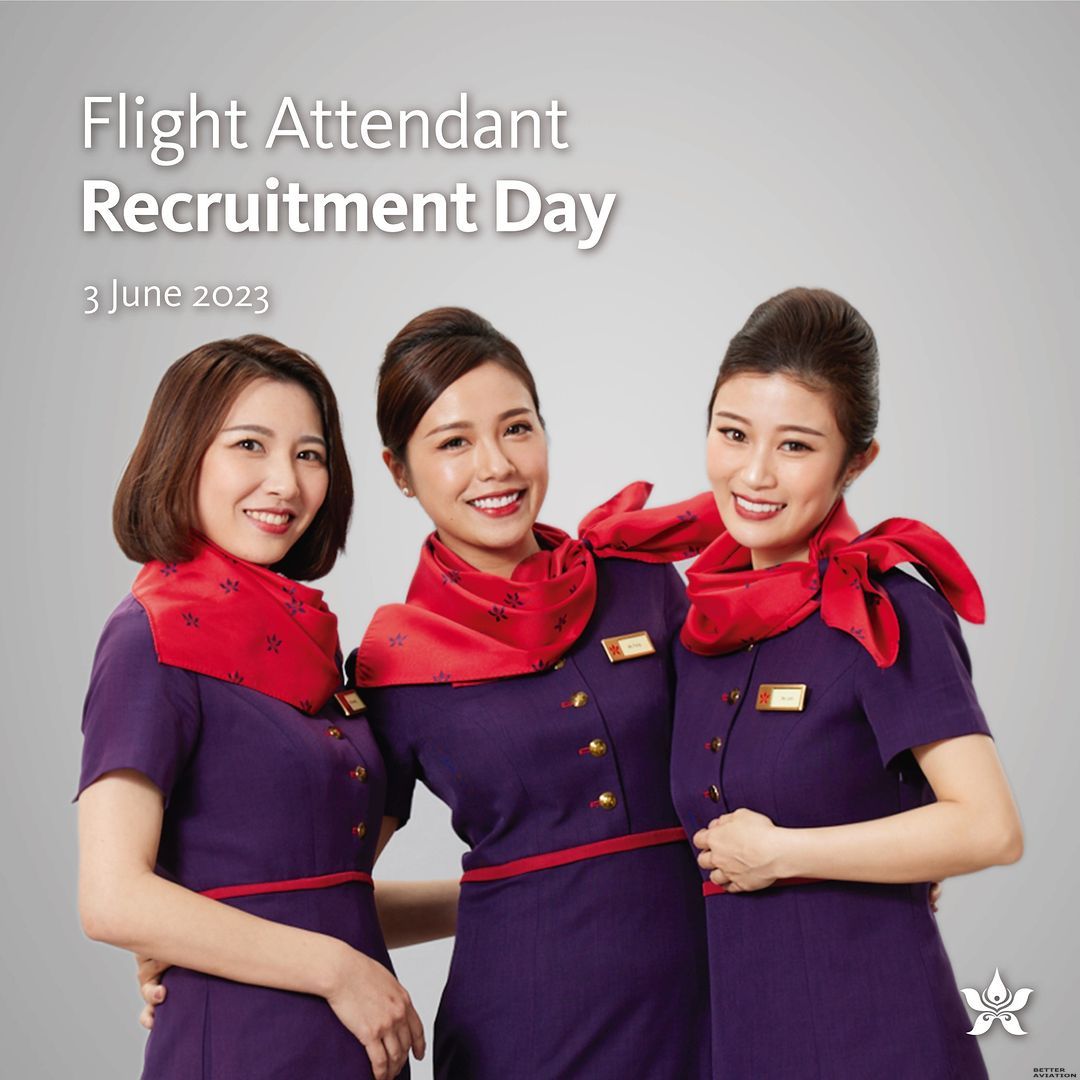 "Looking for a career that's full of adventure and excitement? Come fly with us! Join our Flight Attendant Recruitment Day and take the first step towards an exciting career in the skies!
Date: 3 June 2023 (Saturday)
Time:
1st Session: 09:30 – 11:15
2nd Session: 11:30 – 13:15
3rd Session: 13:30 – 15:00
Venue: Hong Kong Airlines Training Academy Tower, 28 Kwo Lo Wan Road, Hong Kong International Airport, Lantau (Direction: take S1 bus at Tung Chung station, get off at CAD headquarters station and walk about 7-10 mins)
Quota: 50 per session (First Come First Serve basis)
Responsibilities:
Ensure inflight safety of passengers
Deliver excellent customer service which is enjoyable and impressive for passengers
Anticipate and respond to passengers' needs promptly and in a professional manner
Requirements:
Have the right of abode in Hong Kong
Minimum of Grade E HKCEE Subjects or Level 2 In 5 HKDSE Subjects ( including English &Chinese Language or Equivalent)
Polished interpersonal skills with an independent character that is able to work well in a team environment
Positive attitude and customer-oriented mindset
Fluency in written and spoken Cantonese, English and Mandarin is essential
Ability to speak Japanese, Korean, Thai, Indonesian, Malay, French, Russian or other languages would be an advantage
A minimum arm-reach of 210cm and physical fitness to pass the pre-employment medical assessment
Must have received a third dose of COVID 19 vaccine
Interested parties please bring along your HKID card, passport, home return permit, resume, original of academic certificates, relevant employment references and a passport photo on the Recruitment Day. We are looking forward to meeting with you!