VietJet Air Cabin Crew (July & August 2022)
Cabin Crew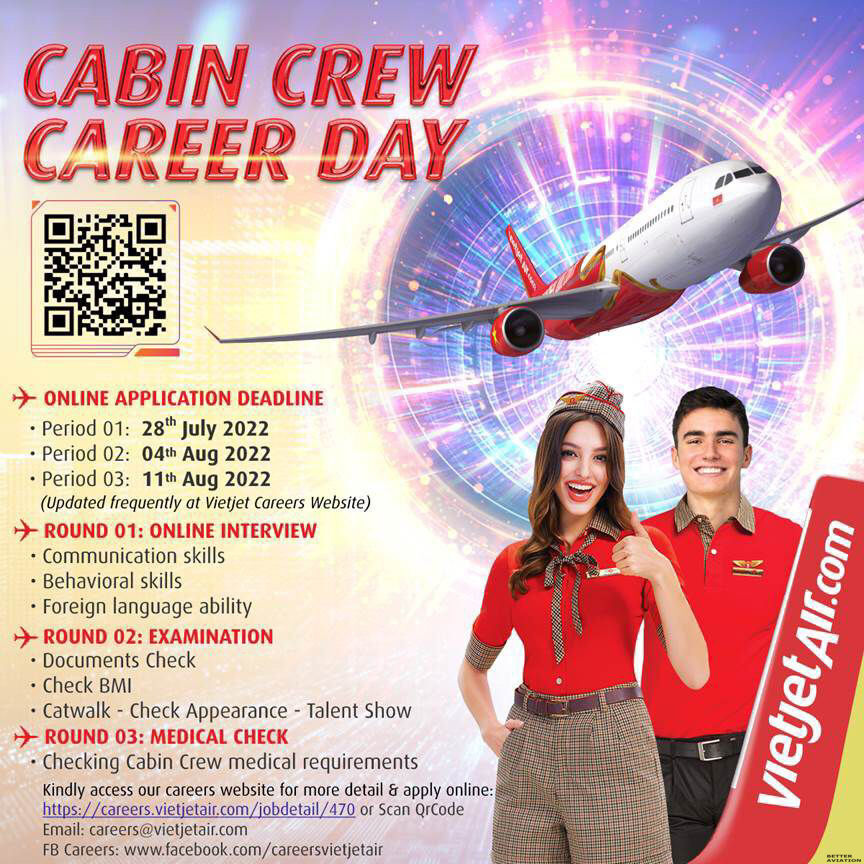 VIETJET AIR CABIN CREW RECRUITMENT!
Candidates apply online will be updated and receive email for interview!
REQUIREMENTS:
Vietnamese & Indian nationality only
Female: minimum height 160cm (barefoot), BMI between 18.5 – 22
Male: minimum height 170cm (barefoot), BMI between 20 – 24
(1-2cm below standard can be considered if candidates got TOEIC from 600 or above)
Education: high school degree graduate or higher
Age: 18 – 30 years old
Minimum TOEIC score of 500 (valid 02 years within interview date)
Good communication & presentation skills
Medically fit to meet cabin crew requirement
No visible tattoo or scar while in Vietjet Cabin Crew Uniform (covering by make-up or plaster are prohibited)
Dental braces are not permitted
DOCUMENT CHECKLIST:
Vietjet Application form
02 of 4×6 passport style photos
Original & 1 copy of ID card
Original & 01 copy certificates of higher education or equivalent
Original & 01 copy of TOEIC with 500 score or higher validity within 2 years (or IELTS, TOEFL equivalent)
RECRUITMENT PROCESS:
ONLINE APPLICATION:
Submit application online via: https://careers.vietjetair.com/jobdetail/470
Invitation for shortlisted candidates will be received via email
Candidates confirm to join the online interview by complete the Register Form
Interview Link will be received via email before the online interview day.
Deadline to apply online:
Period 01: 21st July 2022
Period 02: 28th July 2022
Period 03: 04th August 2022
Period 04: 11th August 2022
Period 05: 18th August 2022
ROUND 01: ONLINE INTERVIEW (via Zoom)
(Candidates will be sent Online interview Link – Zoom + Standby at Zoom Lobby)
Communication skills
Behavioral skills
Foreign language ability
ROUND 02: EXAMINATION
Ho Chi Minh City: Vietjet Aviation Academy – E3 – E6, D2, Long Thanh My, Thu Duc, Ho Chi Minh City
Hanoi City: Vietjet Northern Regional Office – 302/3 Kim Ma, Ngoc Khanh, Ba Dinh, Hanoi
Documents Check
Check BMI
Catwalk, check appearance
Talent Show by group/individual
ROUND 03: MEDICAL CHECK
INTERVIEW SCHEDULE WILL BE UPDATED – (Subject to change & updated frequently)
JOB DESCRIPTION
Ensure the safety and security of passengers during the flight;
Perform all duties and services during the flight;
Utilize first aid knowledge to assist passengers when needed;
Other assigned tasks.
DRESS CODE:
Female:
Black knee length skirt
White short-sleeves shirt
Black shoes
Full make-up
Male:
Trousers
White short-sleeve shirt
Black shoes
Not accept candidates wearing unprofessional dress-code such as jeans, sandals, sneakers, espadrilles.